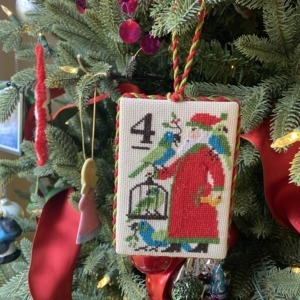 If you are a cross stitcher, you have heard of Prarie Schooler. This company has been designing classic patterns and charts for so many years. I have stitched many of them using the called for DMC colors and they of course have turned out gorgeous. I have a love of 12 Days of Christmas cross stitch ornaments. Currently I am working on 3 different series from different designers…..one day I hope to have a 12 Days of Christmas ornament tree. So when I saw the Prarie Schooler set of 3 charts at my local LNS I immediately grabbed them and kitted them up with the called for colors. Fast forward to day 1, about 70% complete….I wasn't in love. Sadly, the colors were just a little too dark and muted for me. I LOVE colors – the BRIGHTER, the BETTER!
So after much thought, I decided that I was going to do a full Tiger Lily color conversion for this series of Prarie Schooler 12 Days of Christmas.
This was the perfect opportunity for me to pull out my fabulous Aurifil thread chart and do a fun, bright and cheery color selection. There are 17 colors used in these 12 charts, all charted in DMC.
With Aurifil, I had the choice of using their traditional 6 stranded floss for stitching, this would give me the flexibility to choose any count fabric. Instead, I took this opportunity one step further and decided to get 12 wt thread spools to stitch with instead. I've been wanting to try to 12 wt thread and compare to the floss. The 12 wt thread was a dream. It pulls off the spool in one strand (so there aren't any extra strands of floss to keep organized when you switch colors). It has the consistency and thickness of 2 strands of DMC, so it was perfect coverage on my chosen fabric of 16 Ct White Chocolate Zwiegart Aida.
I love so much how the ornament turned out. The colors are so bright and cheery. I used my ornament finishing technique of 2 pieces of sticky mat board, handmade cording made with my krenik cord maker tool, my glue gun and a few bits and bobs (light bulb hook with 2022 charm and jingle bells)
I'm so excited to start stitching on my next day of Christmas.
Happy Stitching Friends!
XOXO,
Tiger Lily
aka Kari
https://tigerlilyshop.com/wp-content/uploads/2022/12/Praite-Cover-1.jpg
1102
735
Kari Chamberlin
https://tigerlilyshop.com/wp-content/uploads/2020/05/tigerlily-logo-sm.png
Kari Chamberlin
2022-12-06 12:07:40
2022-12-06 12:07:40
My Bright & Cheery Christmas